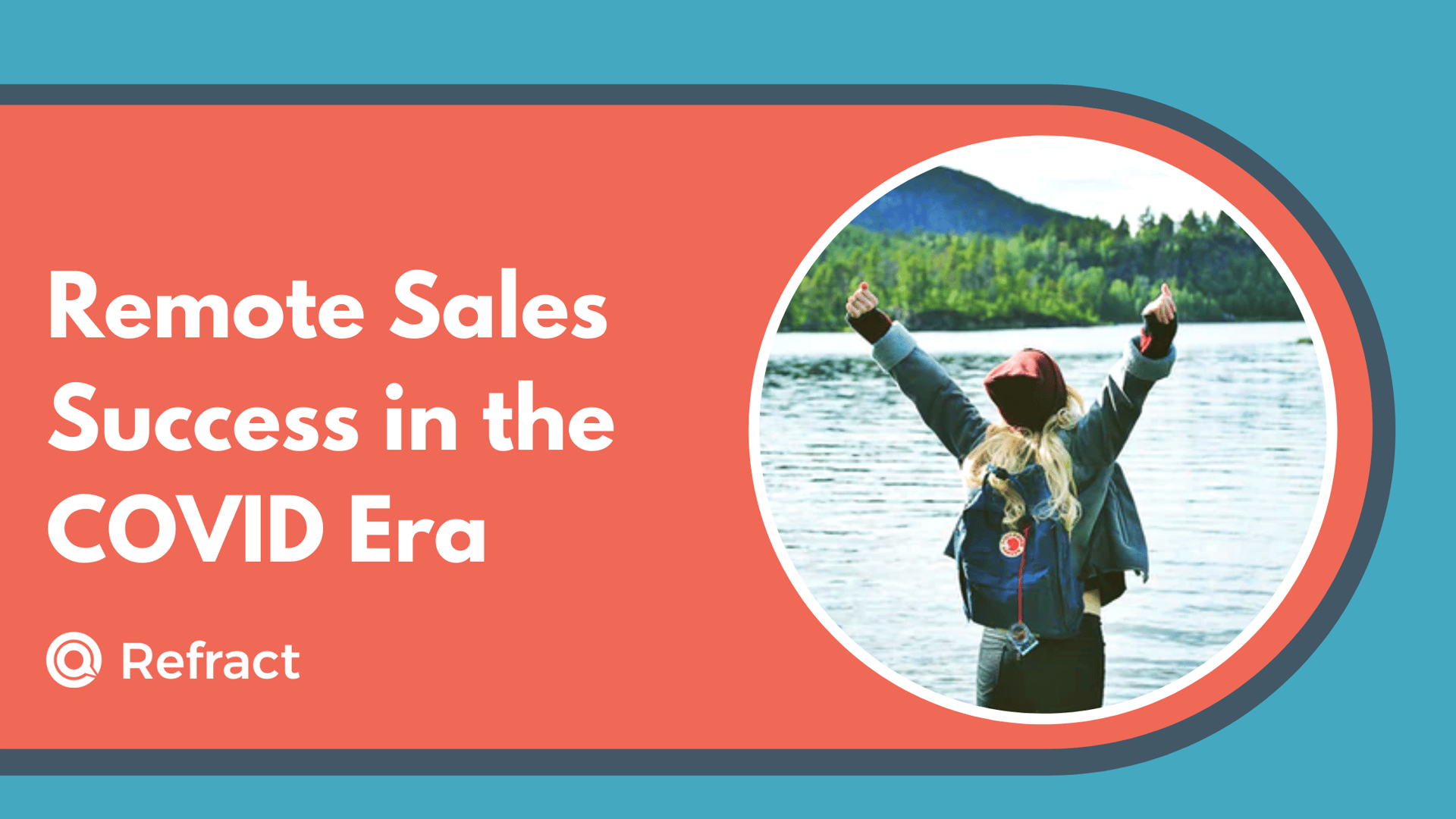 Whether you run an established remote sales team, or your office-based team has recently moved to homeworking, you'll understand that remote sales is an entirely different challenge during the COVID Era. However, during these challenges there are opportunities to not only stay afloat, but also to thrive. Smart work during the current climate can put you in the best position to make big gains and make remote sales work for you and your team.
Refract's co-founders Kevin Beales and Richard Smith cover 3 ways you can win with remote sales.
To get the full details and the next steps you should take to win with remote sales in the new normal, download the book here.
Here's a preview of 3 ways you can win with remote sales:
1) Find the right opportunities
During the current downturn, your prospects are looking to solve immediate business problems. If your solution doesn't solve one of these problems, then you won't be a priority to them.
This gives you an opportunity to be the solution to the current problems keeping them up at night. Your competitors' likely realize this same opportunity, so you have to be able to cut through the noise.
Personalization is one of the best ways to stand out. Do the right research that will allow you to connect your solution to solving your prospect's immediate business problems.
Some businesses are doing better than others; be able to pivot who you're selling to so you're connecting with prospects that have a problem you solve for. This can help you builder a bigger, more reliable pipeline.
This is also a great opportunity to invest in self-development for your reps to increase conversions at each stage of the sales cycle. Calling recording and coaching software can help you work through each of your reps' pressure points at scale. It can also allow you to take what is working for your top performing reps and replicate that across your team.
2) Bust the myths about remote teams
There are several myths that come up about remote sales teams. One is that sales teams cannot succeed working from home. This comes from sales managers that feel they have to see their reps working to make sure they're productive.
We've found that without the time spent commuting
and in unnecessary meetings, reps have more time to dedicate to actual sales activity.
Another key myth about remote teams right now is that they need to stop selling. Some companies are scaling down their sales efforts, but people are still buying solutions that solve business challenges.
If you're interested how to bust the 'stop selling' mindset, see a detailed breakdown by downloading your copy of 'Winning With Remotes Sales In The New Normal'.
3) Effectively manage remote teams through downturns
It can be difficult to manage a remote team in good times, let alone a downturn. However, there are several different tactics sales leaders can use to keep their team morale up and have them performing at a high level.
One way to do this is through gamification. By creating challenges or getting on video calls together to do prospecting, you remove the feeling of embarrassment after a difficult cold call and keep morale and productivity up.
If you're interested to learn other strategies and tactics to effectively manage your remote team, see a detailed breakdown by downloading your copy of 'Winning With Remotes Sales In The New Normal'.
Curious to see next steps you should take with your team to win with remote sales in this new normal?
Download a copy of the full book here to give you the strategy and tactics you need to effectively manage your remote sales team and hit targets during the COVID Era.