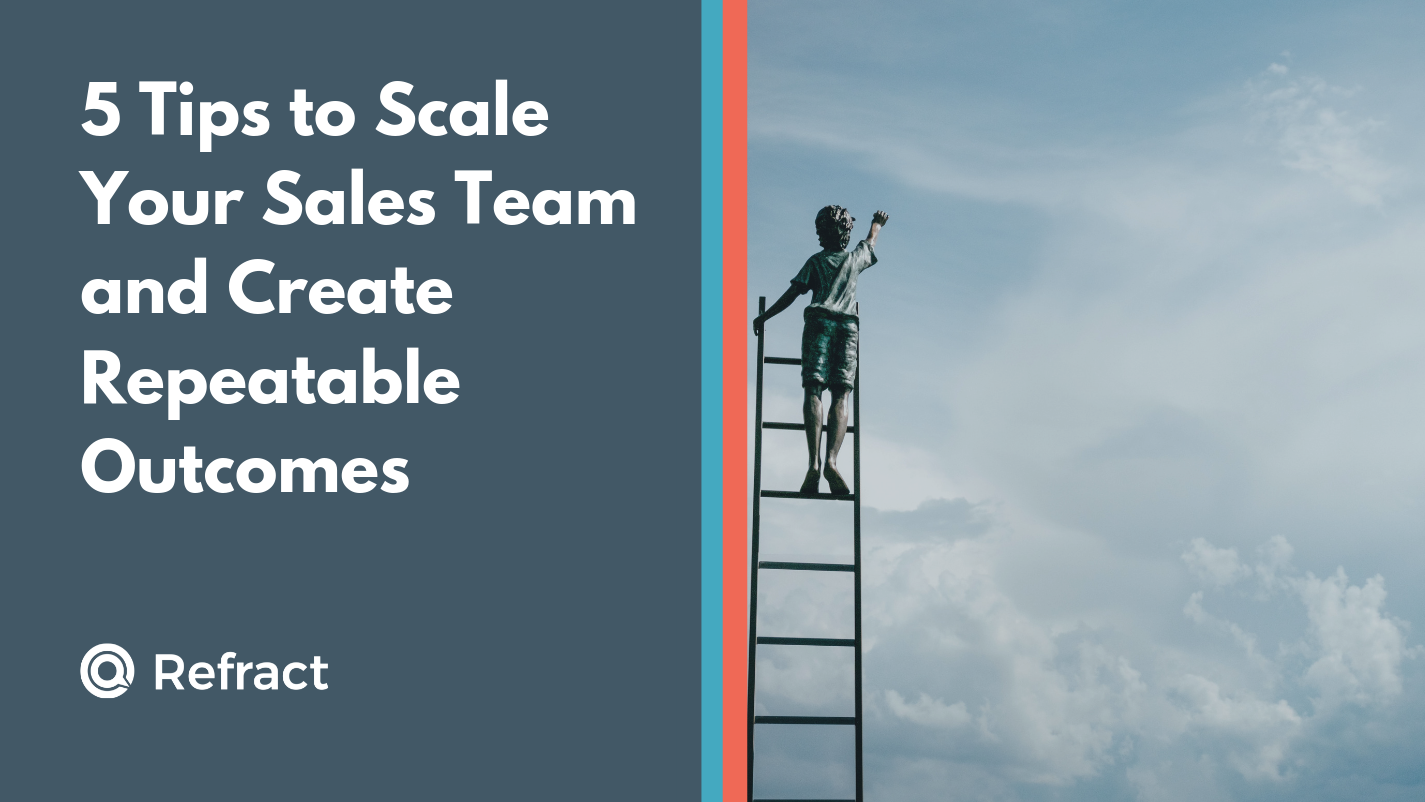 I remember playing with Grow Monsters - those expandable water toys that grow five times or more their original size after a few days in water. It was fun to see a tiny dinosaur come out of the water enlarged, as if by magic.
A guest blog by Diego Pineda, Senior Content Creator at CloudTask
There's no magic in it, however, just science. Grow Monsters are made of super absorbent polymers that suck in and hold a large amount of water relative to their mass.
They grow quickly by design.
The same is true for sales teams - you must design them to scale quickly and expect consistent results. You could even say there's a science behind scaling up.
Do you want to learn more? Read on to learn 5 tips to scale your sales team and create repeatable outcomes.
1. Design a repeatable sales process
You can't have repeatable outcomes without repeatable processes - just as your Grow Monster won't expand if you don't follow the instructions on the package.
You must design a system that works for your clients all the time.
A sales process is simply a set of steps your sales team will take to move a prospect from a cold lead to a paying client.
Broadly, the steps of any sales process are the following:
Prospecting - finding new leads out there
Connecting - initiating contact and qualifying the new leads
Researching - learning more about your prospect to personalize the experience
Presenting - conducting a demo or sales presentation and answering questions
Closing - asking for the sale through a quote or proposal or the actual signing of a deal
In designing your sales process, you must know your most important key performance indicators (KPIs) and the criteria sales reps must follow during each step.
Start by analyzing your current sales process and see what changes you can make. Here are some questions to ask yourself.
Why do people buy from me and not the competition?
What are their pain points and how do we solve their problems?
What are our touch points with our leads?
What specific actions are moving a lead from one stage to another in the sales process?
What actions should reps take to close a deal?
Always refine your sales process and keep asking questions that will lead to improvements. The market changes and so must you - that is one of the secrets to profitability.
2. Train and mentor your team members constantly
A repeatable sales process is of no good if you don't train your people well to follow that process.
As a kid, I would watch my dad unwrap the expandable dinosaur, fill a bowl with water, and soaking in the bright blue stegosaurus. So, that's how you do it! Now I could do it myself.
Similarly, have more seasoned sales reps mentor the new hires, show them how the system works, your best practices and tips from the trade.
Bring in experts to train your team on the latest tactics to improve each step of your sales process and challenge them to keep learning on their own. At CloudTask, we have trainers working with our teams all the time and we see the results quickly as the sales reps put what they learn into practice immediately after the trainings.
Do you have a plan for continuous training at your organization? If not, get started on one right away. Your team may need some coaching.
3. Set up tech tools that will help you scale
Old fashioned spreadsheets won't cut it anymore.
If you want to scale and grow your revenue, you need a powerful CRM that your sales team can use to keep track of each customer during the sales process.
Besides CRMs, there are other great tools you can use, such as chatbots, email-finding tools, sales acceleration platforms, data aggregators, sales contract management software, video conferencing software, route planners for field sales, appointment scheduling apps, social selling solutions, productivity apps and more.
Whatever you can think of and even what you can't, it's probably out there.
The idea is not to stack your workflow with all sorts of tech tools, but to identify the areas that would benefit the most from such tools and implement them.
Here are some ideas to get you started.
Tools for sales intelligence: LinkedIn Sales Navigator, Hubspot, Clearbit, Zoominfo
Tools for sales engagement: Drift, Zoom, Outreach, Yesware
Tools for analytics and measurement: Clari, Salesforce, Nutshell, Tableau
Tools for management and coaching: Refract
Some of the tools above do several things, so find ones that fit your needs.
4. Measure and adjust according to the data
I can't say that I measured how much my Grow Monsters expanded - I wasn't that nerdy. It would have been an interesting study, though unimportant, having a chart of daily growth rates for my toy dinosaurs.
Measuring your data, however, is not inconsequential. That's why you must do sales tracking, keeping records and details of what goes on during your sales process.
It's not just about how many calls or emails your reps are making or sending, but about results. How many appointments are scheduled, deal closing ratios and deal velocities. With this data in hand you can decide what activities your sales team should focus on to meet your quota.
Here's a list of things you can measure:
Number of calls made
Number of proposals sent
Number of conversations
Number of follow ups scheduled
Average length of sales cycle
Total open opportunities
Total closed opportunities
Win rate
Volume of new opportunities added to pipeline
Percentage of leads followed up
Percentage of qualified leads
Time spent selling
Time spent on data entry
Time spent lead prospecting
With this data in hand you'll identify:
The key stages of your sales process
The actions and the timing to increase your chances of closing a deal
The actions that your team is doing that are not working and must be ditched
Once you identify the above, make the necessary changes and keep measuring.
5. Outsource sales operations with the right partner
The best times I had with expandable toys were when my friends came over and we all had our own scaled-up dinos to play with together.
In my experience, the same is true for sales - when you outsource sales with the right partner, you can scale quicker and with guaranteed results. How come?
Well, think about it. An experienced outsourced sales team that can quickly integrate with your sales processes already has the basic training and mentors in place, they are accustomed to the best tech tools and have a quality assurance analyst to measure their results.
Hiring the right people is going to have a great impact on your team's performance, but often, it's hard to find the right talent locally. That's where a virtual team that works as an extension of your in-house team can help immensely.
However, not all outsourcing companies are the same. You must find the right partner - a company that has a track record of generating results. Pick a company that can generate leads, close deals and retains customers.
You can learn from their experience and scale fast.
Become a Grow Monster
Some expandable toys grow to 10x their original size - if you're patient enough and wait a few more days than usual.
I know as I kid I wasn't. I was too eager to play with my stego.
But I know you can. Just implement the five tips above and work patiently on your sales process. In time, you'll see growth happening and revenue exploding.