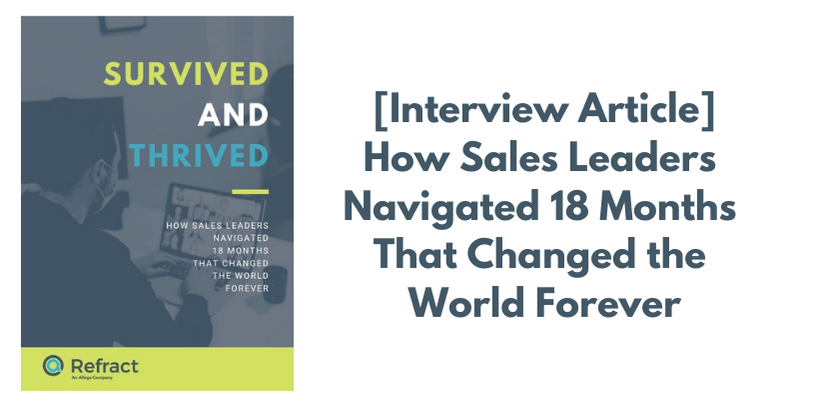 The past 18 months have without doubt changed the world forever.
The changes made by people, teams and entire businesses throughout the pandemic have fast-tracked us into a world embracing technology to enable remote working and communication.
Specifically in the sales space, we've seen virtual selling at centre stage, posing some challenges and significant benefits for sales teams around the world.
So, what have we learned? Which parts of the traditional sales role are now a distant memory and what's here to stay for good?
We interviewed 5 Global Sales Leaders to find out just that.
You can access the full piece 'Survived & Thrived' over on our resources page but for now, here's a snippet of one of the interviews...
Kelly Frey, Chief Revenue Officer at PrePass, the largest integrated weigh scale bypass and tolling provider in North America, shared some of the initiatives put in place at PrePass that have led to increased MRR, an 80% uplift across the board, and ultimately, the companies' success throughout the pandemic.
Pre-pandemic, Kelly was managing a collective group of 3 sales departments, two thirds of which were office based. The majority of the PrePass Inside Sales and Customer Success teams were office based and needed to adapt quickly in order to navigate the pandemic.
"Some of the biggest challenges we faced were around moving to 100% remote working. Our teams previously had instant access to managers and peers to support them in their roles and this changed overnight. Where we were quickly able to coach and support each other through unique situations or objections, we were now working solo from home. There's a certain energy that comes from a group sales setting. Picking up on and using this energy within a sales floor is difficult to replicate in a fully virtual environment."
We asked Kelly how PrePass navigated losing the energy of the 'sales floor' and their solution was surprisingly simple.
"We moved to more group chat functionality to make sure everyone could get in touch with their colleagues quickly and easily using chat. It worked out better than we thought at keeping virtual chatter alive. It enabled me to keep an ear on the sales floor even though we were working remotely –
I could watch the conversations taking place across the day. It even enabled me to be in more places at once and it actually helped me get a better picture into what was going on. I saw great communication examples and useful pieces of content being shared that I previously wouldn't have seen. It also helped me on a human level. I was able to gauge individual personalities and get a better sense of team dynamic. I think the pandemic has improved virtual and digital communication overall.
My fears around productivity have been washed away after witnessing just how successful we can be remotely. We've broken records we never have in company history."
After hearing of his team's success we asked Kelly to share some of the metrics reflecting the impact of these changes on overall sales performance.
"We saw a significant increase in productivity (number of seats sold per sales person, per day) around about a 20% increase – we've broken all sorts of records and we had people hit the highest ever attainment level. Across the board it's a 20% improvement over anything that came before, more specifically, year on year, we've seen an 80% improvement across the board. MRR has also increased significantly. We were not only winning new business but retaining existing customers at a time where we'd expect a higher churn."
Hearing just how successfully PrePass managed to navigate changes brought about by the pandemic, we were interested to know which initiatives will be here to stay both now and into the future.
"In a previous world I struggled to get our Customer Success and Field Sales teams working together. For cross and upsell opportunities, we've seen these two teams coming together in joint conference calls to work a deal over the line together. Team collaboration and team selling. That's a real bonus and something I want to make sure continues."
A couple of other successful initiatives we're keeping include the PrePass Value Journey. Even prior to COVID, we wanted to develop a deeper and more valuable relationship with our customers. The PrePass value journey encompasses the full customer journey experience from prospect through to evaluation and selection, implementation and renewals. During COVID we were able to double down on training. We use a sales enablement tool to ensure everyone knows how to do a good demo, presentation, build a business case and more. Ensuring our teams are properly skilled in all things sales.
During the pandemic our business accelerated really quickly, which resulted in less focus on quality. We were paying a little less attention and things were a little messy. We decided to knuckle down from a quality perspective which led us into conversations with Refract. We want more clarity on what's being discussed in our sales conversations so we can maintain performance standards from a quality assurance perspective.
We're also focusing heavily on making more outbound phone calls using Connect & Sell auto-dialer. It's allowing us to get past gatekeepers and improve the quality of our outbound phone calls. We're continuing to scale and this has been a great experience for us."