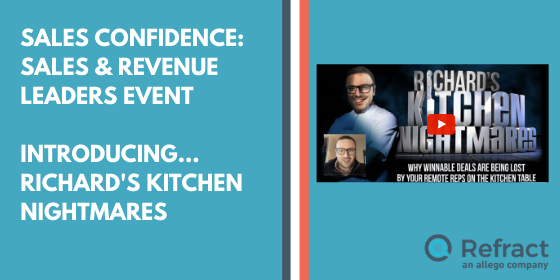 We hear it time and time again, pipelines looking super healthy, full of great-fit opportunities that should be well on the way to close. So why are these great-fit opportunities being lost and where is it all going wrong?
Our VP of Sales, Richard Smith spoke around this very topic at a recent Sales Confidence event sharing some of the most common reasons winnable deals are lost and what you can do to counteract the problem.
Rich touched on his top 3 key challenges and fixes in the video above - sales people needing to be liked, missing emotive nuggets peppered in conversations and finally, weak next steps. However, after analysing data from hundreds of thousands of sales calls in Refract, we've collated a list of the top 10 recurring data-backed reasons that winnable deals are lost and they're all much easier to fix than you'd expect!
Our new Cheatsheet details each of the 10 problem areas with quick-fix, actionable advice on how to address each issue, effectively plugging those holes in your leaky sales bucket and securing the revenue you should be winning!