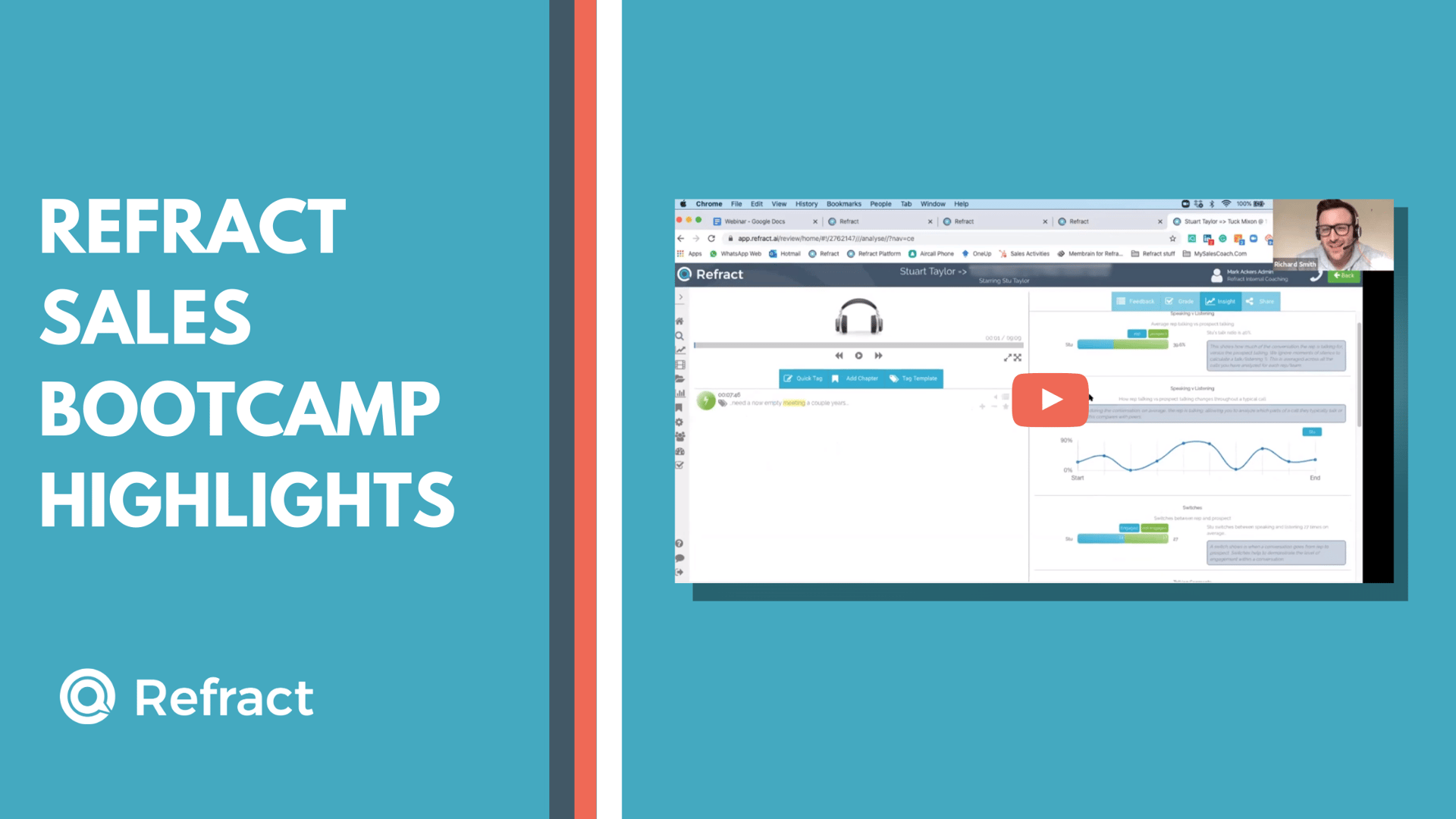 In this Sales Bootcamp Highlights video, we cover the best moments of our Sales Bootcamp series that ran from March 16th to July 16th.
This incredibly actionable resource is filled with tactical tips to answer questions like:
Frustrated that your reps aren't getting through with their cold calls? Wondering how to write effective personalized emails at scale? Looking for real, actionable takeaways so that your team can improve their conversations and conversions today?
We cover all of these topics and more, ranging from real cold call breakdowns and leaving effective voicemails to LinkedIn prospecting and writing personlised prospecting emails that generate responses.
Watch the highlight video below and see why thousands of sales leaders and reps alike joined us for our Sales Bootcamp series.
To jump to a certain section of the video, see the time stamps below.
Prospecting
Section 1: Cold Call Breakdowns (0:10-8:45)
Learn as we break down real cold calls and analyze what makes them successful. Covering topics like how to open a cold call effectively and why it makes such a big difference, we dig into real cold calls and give actionable insights that will help your team book the meeting.
Section 2: Leaving Effective Voicemails (8:46/12:00)
See why your team should be leaving a voicemail and how to leave effective voicemails that generate a response. Topics covered are: the purpose of a voicemail, how to properly prepare for leaving a voicemail, and what to measure the success of a voicemail on.
Section 3: LinkedIn Prospecting (12:01/17:43)
Discover how to use LinkedIn Sales Navigator to help you find better fit prospects using specific keywords and more narrow search parameters so you can create a list of well-defined list of contacts to prospect with. Also, learn how to write a personal LinkedIn profile that can help you book a meeting.
Section 4: Personalised Prospecting Emails (17:44/24:52)
Understand how to write a personalised email to a cold prospect in under 10 minutes. Watch Stuart Taylor write a real cold email and see his process for doing the research he needs to properly personalise the email and make sure that's it relevant to dramatically increase the rate of response.
Section 5: Objections of the Week (24:53/27:59)
Watch the teardown of the objection, "I'm already using your competitor". Learn the motives behind the objection, how to appropriately respond, and what the biggest difference between success and failure comes from in dealing with this objection.
Section 6: Elevator Pitch Breakdowns (28:00/36:26)
Listen to real elevator pitch breakdowns and see what makes the elevator pitches successful, what they could improve upon, and how they could be tweaked to better resonate with their prospects.
Discovery Call
Section 7: Discovery Call Coaching (36:27/41:21)
Find out what's the real purpose of a discovery call and how to properly conduct one. See how to conduct a discovery call to help understand the needs of your buyer, give a relevant product demo that relates to those needs, and how to improve your demo conversion rates.
Demos
Section 8: How to Give a Great Demo (41:22/50:25)
Find out how to give a relevant demo that is personlised for your prospect and shows how your product can solve their specific challenges. Discover one of our secret weapons, the 'What I heard from you' slide, and how you can use it to generate a successful conversation and demo with your prospects.
Bonus Section
How to Ask Great Sales Questions (50:26/53:43)
Learn how to ask great sales questions that will help you uncover key insights into your prospects' buying process, their interest in your product, and the challenges they're facing in their business today so you can talk about the right benefits of your product.
Click here for replays of our individual Refract Sales Bootcamp webinars.
Also, connect with the Refract team on LinkedIn so you can see our newest content to help you and your team continue to hit your sales goals.